Zagora
Located 44 km from Volos, our beautiful village Zagora is spread on a bright green and sun drenched eastside slope of Pelion. The dense vegetation sweeps around the mountain and connects perfectly with the deep blue water of the Aegean Sea. The sandy beach of Chorefto with multicolored shells stretches 3 km along the coast and is of a unique beauty.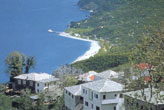 Zagora is the biggest village with the greatest history in Eastern Pelion and is renowned for its natural beauties and the tradition in art and studies since the Turkish occupation. With its traditional stone-made houses coming out of the mountain's dense vegetation, Zagora is an exquisite destination every season of the year.
The tradition continues also today. Zagora has an important activity through the cultivation of the renowned 'Apple of Zagora'. The Agricultural Association (since 1915) is one of the most remarkable associations of the country and the biggest one, collecting the sweetest and most aromatic apples. The women of Zagora have their own Association, where they prepare local sweets, liqueurs and marmelades with great artistry and fantasy.
With many churches, natural springs, stone-made bridges, delightful walking routes, tranquil nearby beaches and various cultural and sports activities during the summer as well as the winter, Zagora is a true jewel that offers hospitality in combination with traditional food and all modern comforts that can satisfy even the most demanding visitor!