Welcome
In the picturesque village of Zagora at the Pelion Peninsula you will find Archontiko Amalia, a 4-key accommodation, which consists of two traditional houses of 266 sq.m. at in total 2 acres of land. From the village road a rising small road leads you up towards the entrance of our property, with private parking and easy access for disabled guests.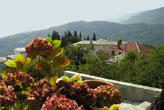 The traditional archontiko dates from 1867 (house Kleio) and 1920 (house Naúas) and was renovated in 2004 with lots of passion, respect and according to strict rules of traditional Pelioritic architecture. Archontiko Amalia has preserved all the elements that define the houses to its previous use.


Kleio, the traditional house, can accommodate up to 6 persons, and the stone house Naúas exists of two independent studios for 2 persons. The houses have been beautifully decorated inside and outside by the famous Pelioritic painter Konstantinos Komninos and we gave every room a name of the Muzes and the Charites, the Greek Goddesses of Pleasure.
The well maintained garden with marvelous stone patio has been created in three levels and has climbing vines, a fountain, comfortable seats and a barbeque-bar in order for our guests to enjoy care-free moments with a spectacular view that reaches out over the green hills towards the Aegean Sea. Just relax and feel like one of the Greek Gods, who according to mythology choose Pelion as their summer residence.
AMALIA offers to its visitors the key to an unforgettable holiday in the middle of a stunning nature in a non-touristic area. An escape from the routine of daily life, every season of the year!